Superior HVAC Services

in Fairfield, OH & Hamilton, OH 

Your Comfort Starts Here.
Fairfield-Hamilton Heating & Cooling is part of a network of superior HVAC contractors with a Five Star Rating backed by Google, Angie's List, and the Better Business Bureau. It's our mission to provide our customers with the absolute best in heating and cooling services using the highest quality products and the most advanced technology. We hold ourselves to the highest possible standards of customer experience and performance.
Superior HVAC Services in Hamilton, OH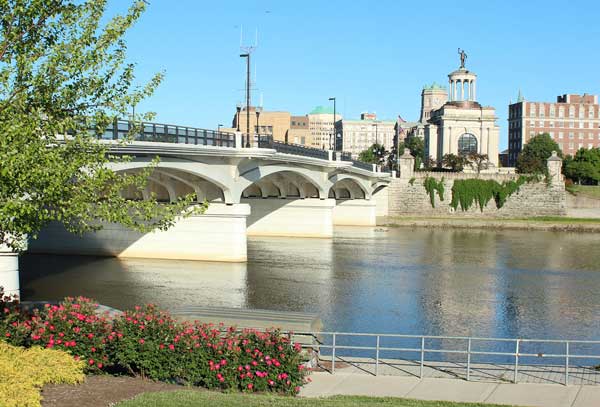 Looking for Heating, Cooling, or Indoor Air Quality services in Hamilton, Ohio? Fairfield-Hamilton Heating & Cooling services Hamilton, OH (and surrounding communities) with a superior level of HVAC services and customer support that our competitors can't match. We strive to make sure each and every customer has a Five Star Experience ‒ each and every time, 100% Satisfaction Guaranteed!
Located about 20 miles north of Cincinnati, the City of Hamilton has a population of more than 62,000 people. It is the county seat of Butler County. Since 2000, Hamilton has been known as the "City of Sculpture" because of the city's movement to revitalize through the arts. The movement has drawn a variety of sculpture installations to the city, which established the Pyramid Hill Sculpture Park. Today, Hamilton has three National Historic Districts designations, which include Rossville, German Village and Dayton Lane.
Named in honor of Alexander Hamilton, the city's first name was Fort Hamilton. It was built in the fall of 1791 by the governor of the Northwest Territory, who was Gen. Arthur St. Clair at the time, as a supply station for troops during the Northwest Indian War. It was abandoned as a fort after the signing of the Treaty of Greenville in 1796. By 1794, the settlement springing up around the fort was platted as Fairfield.  On Sept. 17, 1859, Abraham Lincoln visited the city at Hamilton Station and gave a famous speech describing the area as "the garden spot of the world." Relatively unknown at the time, it was during this same campaign that Lincoln was first mentioned as a viable presidential candidate.
By the mid 1800s, Hamilton began to flourish in its manufacturing. Some of the products were usually machines and other types of equipment involved in the processing of the region's farming produce like steam engines, reapers, threshers and hay cutters, among a long list of other products By the early 1800s, the town of Hamilton had become a heavy-manufacturing base for safes and vaults, paper, locomotives, machine tools, cans for vegetables, paper manufacturing machinery, switches and frogs for the railroad industry, as well as diesel and steam engines, printing presses, automobile components and foundry products.
During both of the world wars, Hamilton factories, like a lot of manufacturing communities, made war material for the military. The whole Great Miami River valley area, where Hamilton was located, had grown into an industrial giant.
Superior HVAC Services

in the Greater Cincinnati Area 




Superior HVAC Services
About Us 
Fairfield-Hamilton Heating & Cooling
We are among the fastest-growing and highest-rated HVAC contractors in the state, and we've achieved this by providing the most value, as quickly and efficiently as possible, at the lowest prices. We got this way because of loyal customers. Your satisfaction is what will make us or break us, that's why we put your satisfaction and comfort first. Our philosophy is to install, service, and maintenance the highest quality heating, cooling, and indoor air quality systems with the most extraordinary level of customer service at the most competitive price. We are fast, friendly, and affordable. For same day service on heating and cooling equipment or a quote on replacement equipment, give us a call. We are excited for you to experience Fairfield-Hamilton Heating & Cooling.
The Fairfield-Hamilton Heating & Cooling Experience 
At Fairfield-Hamilton Heating & Cooling, our mission is to make the experience one that you'll tell your friends and family about, and post about on Facebook. An experience you'll want to leave a review about, to tell others how well we treated you.
Regardless of whether it's a new system installation, a repair, or standard maintenance, your positive experience as a customer is our top priority. We are always striving to keep our standards high when it comes to the service we provide our customers. Because we value our community and treat our customers and employees like family, we are able to provide a superior level of HVAC service you won't find anywhere else.