Superior HVAC Services

in Fairfield, OH & Hamilton, OH 

Your Comfort Starts Here.
Fairfield-Hamilton Heating & Cooling is part of a network of superior HVAC contractors with a Five Star Rating backed by Google, Angie's List, and the Better Business Bureau. It's our mission to provide our customers with the absolute best in heating and cooling services using the highest quality products and the most advanced technology. We hold ourselves to the highest possible standards of customer experience and performance.
Superior HVAC Services in Cincinnati, OH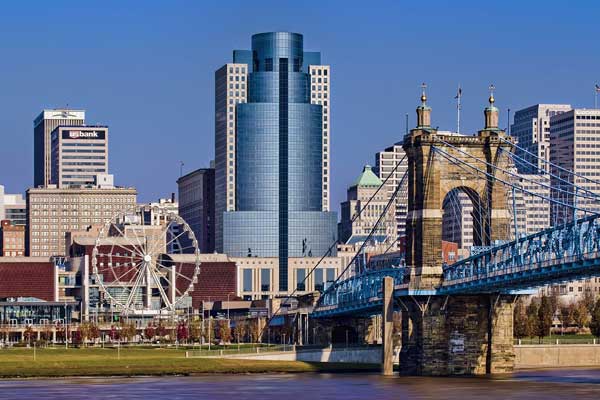 Looking for Heating, Cooling, or Indoor Air Quality services in Cincinnati, Ohio? Fairfield-Hamilton Heating & Cooling services Cincinnati, OH (and surrounding communities) with a superior level of HVAC services and customer support that our competitors can't match. We strive to make sure each and every customer has a Five Star Experience ‒ each and every time, 100% Satisfaction Guaranteed!
Founded in 1788 by three men, the City of Cincinnati today is home to more 360,000 people, and is widely considered to be the cultural center of Southwest Ohio, Southern Indiana and Northern Kentucky. With the purchase of 800 acres of land, Mathias Denman, Israel Ludlow and Col. Robert Patterson are credited for starting the settlement along the Ohio River, at the mouth of the Licking River.
After the purchase, the men divided their roles as follows: Denman was to provide funding; Patterson was tasked with finding new settlers; and Ludlow was to survey the land and establish a town to enable sales. Originally, the men named the town "Losantiville," which came from four words from different languages that together meant, "the city opposite the mouth of Licking River." After settlement, the town started to grow, but only slowly with just three log cabins by the end of their first month. By August 1879, the growth was starting to mushroom. Fort Washington was then built west of the town to protect settlers in Symmes, Miami and northern Kentucky. The addition of 300 soldiers boosted the town's population to about 500.
In 1790, Arthur St. Clair, who was the governor of Northwest Territory, established Hamilton County. Because he disliked the name Losantiville, he changed the town's name to Cincinnati, after the legendary Roman statesman and military leader Cincinnatus, who was a model of civic virtue. Later that same year, roughly 250 new families moved to Cincinnati, boosting the overall population to around 700.
During the 19th century, Cincinnati saw rapid transformational growth, earning a listing as one of the top 10 U.S. cities by population; it was the first major city inland and the first city founded after the American Revolution. Later, Cincinnati continued to grow because of the establishment of learning institutions like University of Cincinnati and the Medical College of Ohio.
Additional social amenities included their Opera House, Art Museum, Art Academy, music hall and the Exposition building. In addition, more than 200 churches had bloomed with the population growth. With 13 Ohio governors coming out of Cincinnati, the political influence of the area also made a tremendous break-through.
By 1890, Cincinnati became the largest city in Ohio with a population of around 300,000. In the 20th century, the city's population had increased to around 365,000, however it no longer holds the rank as most populous city in the state.
Superior HVAC Services

in the Greater Cincinnati Area 




Superior HVAC Services
About Us 
Fairfield-Hamilton Heating & Cooling
We are among the fastest-growing and highest-rated HVAC contractors in the state, and we've achieved this by providing the most value, as quickly and efficiently as possible, at the lowest prices. We got this way because of loyal customers. Your satisfaction is what will make us or break us, that's why we put your satisfaction and comfort first. Our philosophy is to install, service, and maintenance the highest quality heating, cooling, and indoor air quality systems with the most extraordinary level of customer service at the most competitive price. We are fast, friendly, and affordable. For same day service on heating and cooling equipment or a quote on replacement equipment, give us a call. We are excited for you to experience Fairfield-Hamilton Heating & Cooling.
The Fairfield-Hamilton Heating & Cooling Experience 
At Fairfield-Hamilton Heating & Cooling, our mission is to make the experience one that you'll tell your friends and family about, and post about on Facebook. An experience you'll want to leave a review about, to tell others how well we treated you.
Regardless of whether it's a new system installation, a repair, or standard maintenance, your positive experience as a customer is our top priority. We are always striving to keep our standards high when it comes to the service we provide our customers. Because we value our community and treat our customers and employees like family, we are able to provide a superior level of HVAC service you won't find anywhere else.